Files and Components¶
IODA data is stored in a hierarchical structure that is quite similar to a filesystem. This filesystem starts at a root path ('/'), and may contain groups (directories) and data (variables). Groups and data may be created, opened, closed, read, written, renamed, or deleted. Links and mounting are also possible.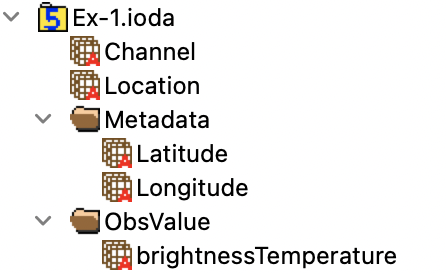 Figure 1 — Schematic view of IODA data showing the hierarchical structure of groups (MetaData, ObsValue) and data (latitude, longitude, brightnessTemperature, Channel, and Location).
The following subsections describe each of the basic components of IODA data. For usage examples, please refer to our Doxygen documentation and GitHub repository. We provide examples for C++, C, and Python.